Building a North American Identity
Under the leadership of John E. Cleghorn (1995-2001), Royal Bank completed its transformation from a traditional commercial bank to a broad-based financial services group. Supported by a responsive and flexible management structure and with a solid foundation in place, the forces of change were met with strong performance from traditional businesses, growth in new marketplaces and the pursuit of technology-based delivery channels. Key acquisitions added scale to core businesses as exemplified by the purchases of Westbury Canadian Life Insurance Company, the Canadian operations of Mutual of Omaha, the Canadian life and annuity business of Prudential of America and investment dealer Richardson Greenshields. Strategic alliances were struck with innovative technology partners, such as AOL Canada Inc., to satisfy clients' growing appetite for e-banking alternatives.
The listing of common shares on the New York Stock Exchange in 1995 confirmed Royal Bank's desire for a stronger U.S. presence. As part of the initial development of a U.S. retail banking platform Security First Network Bank, the world's first Internet bank, was acquired to leverage a broader range of e-business services. Subsequent purchases of Prism Financial Corporation, Liberty Life and Liberty Life Insurance, Dain Rauscher Corporation, Centura Banks and Tucker Anthony Sutro have greatly enhanced Royal Bank's U.S. retail banking, full-service brokerage and insurance operations.
back to top

Demonstrating its traditional flexibility and responsiveness to market demand, Royal Bank separated the role of chairman from that of chief executive officer upon the retirement of John Cleghorn. On August 1, 2001, Guy Saint-Pierre assumed the role of chairman of the board and Gordon M. Nixon became president and chief executive officer. To support Royal Bank's evolving North American presence, a new global brand strategy was launched under the RBC Financial Group banner in which the RBC prefix was added to each business platform and operating subsidiary.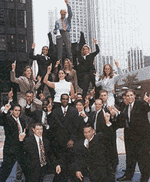 Hard work, training, dedication and enthusiasm have been keywords to describe Royal Bank staff for over 100 years. Here, Global Securities Services staff celebrate their ranking as a top global custodian by Global Investor's 1997 Global Custody Survey.

In the face of dramatic changes and challenges, Royal Bank has maintained the entrepreneurial spirit of its Halifax founders, with dedicated people working together to create client and shareholder value. In the social arena, employees continue to participate in their communities and speak responsibly on issues that impact North Americans and reflect the financial services industry's concern for providing clients with the best possible services.

Click image below to find out more





Read More

back to top