Meeting the Challenges of Global Banking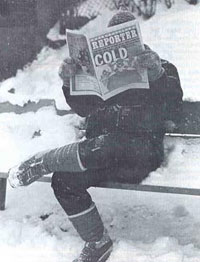 First published in January 1981, the instantly successful advertising tabloid Royal Reporter was printing 3.5 million copies by 1986 to keep up with the demands from readers. It was a loyal reader in a "fan letter" who dubbed the newspaper "a ray of sunshine." Devoted to providing Canadians with helpful articles about banking, the tabloid was a treasure chest of in-the-know articles on everything from automatic banking machines and how to capitalize on high interest rates, to household budgeting and RSPs.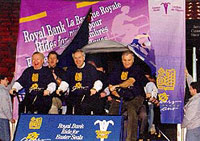 Allan Taylor, chairman and chief executive officer, on the front right hand seat of the inaugural ride of the "Mighty Bike" in Halifax, Nova Scotia. Staff raised over $2 million for children with physical disabilities by pedalling this "bicycle built for 34" through 114 Canadian communities from coast-to-coast during a summer of celebrations in 1994 to mark Royal Bank's 125th anniversary.
back to top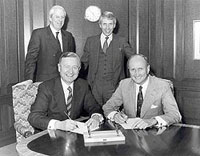 Deregulation in Canadian financial markets permitted Royal Bank's entry into the securities business. In December 1987 the bank and Dominion Securities, Canada's premier investment dealer, agreed to become partners. Here, Allan Taylor, chairman and chief executive officer of Royal Bank, seated left, and Anthony Fell, president and chief executive officer of Dominion Securities, seated right, sign the agreement that strengthened both partners' positions as leaders in their respective businesses.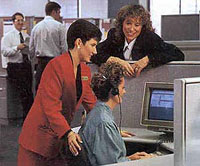 The delivery of consumer banking services witnessed enormous changes throughout the 1990s. One important new delivery channel was telephone banking, which provided Royal Bank customers with access to banking services from their homes. This photo shows the Royal Direct Call Centre in Mississauga, Ontario shortly after it opened in September 1994. In 1999, Royal Bank's call centres in Mississauga, Moncton, Winnipeg and Montreal served just under 2 million clients.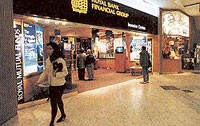 In 1996, Royal Bank's Royal Mutual Funds and Action Direct opened a joint Investor Centre in downtown Toronto. Supported by representatives from both groups, interactive computers and telephones provide access to the bank's self-service delivery channels, offering clients a new, convenient way to learn about and buy investment products.
back to top