Countdown to London: RBC Travels Across The Country to Cheer on Canada's Olympians and Paralympians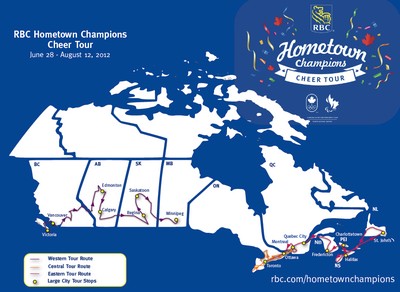 TORONTO, June 28, 2012 - With the 2012 Olympic and Paralympic Games just a month away, fans nationwide are getting ready to cheer on their hometown champions who will be representing Canada this summer in London.
Today marks the kick-off of the RBC Hometown Champions Cheer Tour that will see three London-style taxi cabs travel simultaneously around Western, Central and Eastern Canada, stopping in communities from coast to coast, encouraging Canadians to show their love and support for our Olympic and Paralympic athletes. Fans will have the opportunity to sit inside the taxi cabs and record their cheers and personal messages of support for their Olympic and Paralympic hometown athletes and the entire Canadian team. Cheers will then be uploaded to the RBC Hometown Champions web page - rbc.com/hometownchampions.
"For more than 65 years, RBC has partnered with the Canadian Olympic Team to help athletes achieve their goals and celebrate their successes," said Andy Shibata, head, Brand Marketing at RBC. "With the RBC Hometown Champions Cheer Tour, we are excited to once again bring Canadians the opportunity to connect as a country, show our national pride and declare their support of our Olympic and Paralympic athletes competing in London."
The RBC Hometown Champions Cheer Tour starts today in Dartmouth, Nova Scotia, Toronto, Ontario and Victoria, British Columbia, and will stop in communities and at local events across Canada over the next six weeks, ending August 12, 2012. To see a list of city stops and dates, visit rbc.com/hometownchampions. At several locations, RBC Olympians will be on-site to greet Canadians and help celebrate our Olympic spirit.
"Receiving words of encouragement and support from home means so much to us. Each athlete wants to go out there and go for a medal because we know that people back home are watching and hoping that we do our best, not only for ourselves but for Canada," said swimmer Scott Dickens, 2012 Canadian Olympic Team member and RBC Olympian. "To create the RBC Hometown Champions Cheer Tour and give Canadians the opportunity to connect with athletes really shows RBC's passion for the Canadian Olympic Team, and we are grateful for their continued enthusiasm and support."
The RBC Hometown Champions Celebrations
To welcome home Canadian athletes from the Olympic and Paralympic Games and celebrate their achievements, RBC will host local celebration events in select communities across the country. These events will provide Canadians with the opportunity to connect with and honour their Olympic and Paralympic hometown champions.
More information regarding dates and locations of the RBC Hometown Champions Celebrations will be provided in the upcoming weeks.
The RBC Olympian Grant Program
The RBC Olympian Grant Program provides athletes with a $5,000 grant to give to an athletic association, community group or charity that has fostered their love of sport, helped them realize their Olympic/Paralympic aspirations, or has touched their lives. Athletes will present their grants to the recipient groups and organizations in their communities leading up to and following the 2012 Olympic and Paralympic Games.
The grants are part of the RBC Olympians program which recruits and hires Olympic and Paralympic athletes to work as community ambassadors and gain work experience to help them find a career for life after sport. Since its inception, more than 185 athletes have participated in the program, with 10 becoming full-time RBC employees.
"My path to the Olympic Games was not a solo journey. It involved the support and guidance of many to help me realize and pursue my dreams," says fencer Sandra Sassine, RBC Olympian and 2012 Canadian Olympic Team member, who gave her $5,000 grant to Service et Loisirs/Rencontre Jeunesse Nord-du-Québec to help fund youth games in Chibougamau, QC. "As RBC Olympians heading to London, we're so grateful for the ongoing support from local communities nationwide. We hope to make Canada proud!"
RBC and Amateur Sport

As Canada's longest-standing supporter of the Canadian Olympic Team since 1947, RBC proudly continues its sponsorship through to London 2012, Sochi 2014 and Rio 2016. RBC also sponsored the Vancouver 2010 Olympic and Paralympic Winter Games and the 2010 Olympic and Paralympic Torch Relays. Supporting amateur sport, from grassroots programs in local communities to national sport associations, RBC helps in the development of amateur athletes who compete at home and abroad. In addition, we provide elite-level athletes with flexible career experiences to compliment their training regimes through the RBC Olympians program. RBC is a premier sponsor of Hockey Canada, Athletics Canada, Volleyball Canada and the Canadian Paralympic Committee. Visit rbc.com/community.
back to top