RBC Blue Water Roof Garden Explores 'Skyrise Greening' At Chelsea 2013
RHS Chelsea's first full 'living roof' to be exhibited at centenary show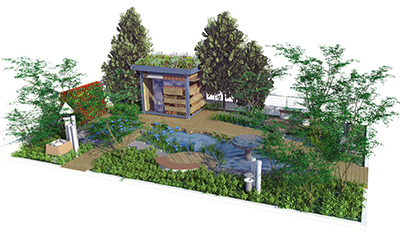 LONDON, November 29, 2012 - Royal Bank of Canada today announced its partnership with Olympic Park designer Nigel Dunnett and The Landscape Agency to present the "RBC Blue Water Roof Garden" at the 2013 RHS Chelsea Flower Show (21 - 25 May 2013). This is the third successive year that the team has collaborated, following the RBC Blue Water Garden (2012) and the RBC New Wild Garden (2011), which were both awarded Silver-Gilt medals.
The garden is in keeping with the goals of RBC Blue Water Project - a wide-ranging, 10-year global commitment to help protect the world's most precious natural resource: fresh water. The design of the RBC Blue Water Roof Garden addresses two important issues - the need for effective urban water management, and for more green spaces in built-up areas. The garden is a creative solution that brings trees, meadows and wetlands into the heart of the densest of cities, while promoting water-sensitive design. It is the first example at RHS Chelsea of a full 'living roof', which aims to encourage wildlife and habitat biodiversity along with sustainable water management, in an urban rooftop setting.
Nigel Dunnett, Lead Designer on the project, commented: "With limited space available on street-level, urban planners really need to look skywards for the green spaces that will allow people in cities like London to maximize their contact with nature. We have extended the water preservation themes explored in our previous Chelsea gardens, and turned our attention to creating a 'living roof' that is able to collect and filter rainwater allowing vegetation to flourish atop sky rise buildings all year round."
Filled with flower-rich planting, the RBC Blue Water Roof Garden features a central wetland that harvests and circulates rainwater runoff to irrigate the garden. Trees envelop the garden, with a low-tech, low-irrigation living wall of drought-tolerant succulents grown in stacked terracotta units used to separate the space from adjacent rooftops. The materials and choice of flowers - many of which originate from RBC's native Canada - have been carefully selected to attract and foster local wildlife, while seating areas flow seamlessly into the varied landform. A winding boardwalk leads to a dramatic 'bird hide' structure clad in habitat panels, from which the biodiverse surroundings can be observed uninterrupted. The rooftop 'furniture' of vents, chimneys and air conditioning units become habitat and design features in themselves.
Harry Samuel, CEO, Europe at RBC Capital Markets, said: "In keeping with previous years, the design team has created a garden that is both innovative and sustainable, thus closely aligned to the RBC Blue Water Project, our global program concerned with water stewardship."
Mike Moodie, head of RBC Wealth Management's UK business, said: "The recent floods and droughts in England remind us of the importance of water management principles. The RBC Blue Water Project is doing some great work here in London, not only through raising awareness at Chelsea, but also through a recent grant to Thames 21, a charity that works with communities across Greater London to improve the rivers, canals, ponds and lakes for people and wildlife. It is our hope that this garden will help keep effective water management at the forefront of people's minds."
About Nigel Dunnett and the Landscape Agency
Nigel Dunnett is Professor of Planting Design, and Director of the Green Roof Centre, University of Sheffield. He is one of the UK´s foremost planting designers, and exponent of sustainable landscape and garden design, and originated the concept of `Pictorial Meadows´. He has won RHS Silver-Gilt Medals at Chelsea in 2009, 2011 and 2012, and was lead horticultural and planting design consultant for the London 2012 Olympic Park, and joint designer of the Olympic 2012 gardens. The Landscape Agency is one of the leading landscape design and landscape masterplanning consultancies in Britain. Together, Nigel Dunnett and the Landscape Agency have designed Central London's first suite of street-side rain gardens.

About the RBC Blue Water Project
Launched in 2007, the RBC Blue Water Project is a wide-ranging, 10-year global commitment to help protect the world's most precious natural resource: fresh water. Through an historic philanthropic commitment, RBC has pledged over C$42 million to date to more than 500 not-for-profit organizations worldwide that protect watersheds. In 2013-2014, the RBC Blue Water Project will focus on supporting initiatives that help protect and preserve water in towns, cities and urbanized areas. For further information, visit www.rbc.com/bluewater.

About RBC
Royal Bank of Canada (RY on TSX and NYSE) and its subsidiaries operate under the master brand name RBC. We are Canada's largest bank as measured by assets and market capitalization, and among the largest banks in the world, based on market capitalization. We are one of North America's leading diversified financial services companies, and provide personal and commercial banking, wealth management services, insurance, investor services and wholesale banking on a global basis. We employ approximately 80,000 full- and part-time employees who serve more than 15 million personal, business, public sector and institutional clients through offices in Canada, the U.S. and 49 other countries. For more information, please visit rbc.com.

- 30 -
Media Enquiries:
Paul French, +44 (0) 207 002 2013, paul.french@rbc.com
Timi Oni, +44 (0) 207 653 4516, timi.oni@rbc.com