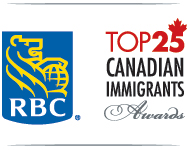 2013 RBC Top 25 Canadian Immigrant Awards
Canada can now vote for the nation's most inspiring Immigrants
TORONTO, March 21, 2013 - Canadian Immigrant magazine has kicked off the voting stage for the fifth annual RBC Top 25 Canadian Immigrant Awards, identifying and celebrating the inspiring stories and achievements of Canadian immigrants from all walks of life. The awards program draws nominations from across Canada and is proudly supported by the title sponsor RBC Royal Bank and associate sponsor Chevrolet.
A call for nominations garnered more than 600 entries over the past two months. The nominations were reviewed by a diverse judging panel, comprised of several past winners and contributors to the magazine. The judges had the difficult task of sorting through hundreds of worthy nominations to determine a short-list of 75 inspiring immigrants who represent a variety of diverse ethnic communities and cultures across Canada.
"It's time to vote!" says Margaret Jetelina, editor of Canadian Immigrant. "For the last five years, we've been amazed by the response our RBC Top 25 Canadian Immigrant program has garnered at both the nominations and voting stage. And the caliber of the shortlisted nominees this year is as impressive as ever. From entrepreneurs to community volunteers to artists, they are all deserving of recognition for inspiring others and making Canada a better place."
Canadians can now vote for their favourite candidates online at www.canadianimmigrant.ca/rbctop25 until May 13, 2013.
"The RBC Top 25 Canadian Immigrant awards recognize individuals from diverse communities who enrich Canada and make it a better place to live. We encourage all Canadians to support and vote for these extraordinary individuals who are making a difference in their country and communities." said Paul Sy, director, Multicultural Markets, RBC.
More than 30,000 Canadians voted in last year's awards program. The winners included: famous rapper K'naan, whose journey from Somalia to Canada is a compelling story; politician Olivia Chow, who has been an example of strength and grace on the political stage in recent years; leading-edge cardiologist Dr. Vivian Rambihar, who has done groundbreaking research on heart health issues among immigrants; and many more.
This year, Associate sponsor Chevrolet General Motors will recognize one of the 25 winners with the Chevrolet Ingenuity Award for showing exceptional creativity and skill in their road to success.
"The people recognized by the RBC Top 25 Canadian Immigrant Awards have a true passion for our country, an inventive nature and are an inspiration to many," said Marc Comeau, vice president, sales, service and marketing for General Motors of Canada. "It takes a significant amount of resourcefulness and creativity to come to a new country and break cultural and social barriers to achieve great success. The Chevrolet Ingenuity Award was designed to recognize the efforts of a truly inspirational individual."
All 25 winners will be announced in June 2013 and will be recognized on canadianimmigrant.ca and in Canadian Immigrant magazine. They will also receive a commemorative plaque and $500 toward a charity of their choice provided by RBC. This year's media partners are the Toronto Star, Metro, Sing Tao and South Asian Focus.

RBC supports a broad range of community initiatives through donations, sponsorships and employee volunteer activities. In 2012, we contributed more than $95 million to causes worldwide, including donations and community investments of more than $64 million and $31 million in sponsorships.

About Chevrolet in Canada
Founded in 1911 in Detroit, Chevrolet is now one of the world's largest car brands, doing business in more than 140 countries and selling more than 4 million cars and trucks a year. Chevrolet provides customers with fuel-efficient vehicles that feature spirited performance, expressive design and high quality. More information on Chevrolet models can be found at www.chevrolet.ca, on Facebook at http://www.facebook.com/chevroletcanada or by following @ChevroletCanada on Twitter.

- 30 -
For more information, contact:
Canadian Immigrant
Sanjay Agnihotri, 905-454-4344 Ext 227, sagnihotri@metroland.com
RBC
Matt Gierasimczuk, 416-974-2124, matthew.gierasimczuk@rbc.com
Chevrolet
Adria MacKenzie, 905-644-6044, adria.mackenzie@gm.com