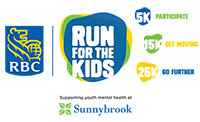 Over 4,500 runners raised $1 million at first annual RBC Run for the Kids
Funds to support youth mental health at Sunnybrook Health Sciences Centre
TORONTO, September 21, 2013 - Today, more than 4,500 runners participated in the first annual RBC Run for the Kids and raised over $1 million in support of youth mental health services at Sunnybrook Health Sciences Centre. The two-day event includes a five-kilometre run on Saturday and a 25-kilometre run on Sunday.
"Children's mental health is a cause close to our hearts at RBC and it was great to see so many of our employees out with their families and friends providing their support," said Jamie Anderson, executive champion of the RBC Children's Mental Health Project. "RBC is committed to help improve access to essential mental health services for children and youth and we are proud to be part of the Family Navigation Project."
Funds raised from the RBC Run for the Kids event will go towards the establishment of the Family Navigation Project at Sunnybrook. The Project is a non-profit program designed to provide expert navigation of the mental health and addictions service system for youth aged 14 to 24 with serious mental health and/or addiction problems.
"As many as two million Canadian youth struggle with a mental health or addiction problem, and yet only one in five will get specialized treatment," said Dr. Anthony Levitt, co-chair of the Family Navigation Project and a psychiatrist at Sunnybrook Health Sciences Centre. "This is, in large part, because families don't know where to go or how to find the services their children need. The Family Navigation Project will give youth with mental health issues and their families a place to start and a path to follow."
Sunnybrook's Family Navigation Project will revolutionize the way youth mental health care is accessed in Canada. The Project will pair families with navigators – experts in accessing the health-care system who can provide insight into the wide cross-section of available services. The navigator will suggest resources, and find the right program for each youth, while patients and families will have a better understanding of their options and how to access services.
The weekend-long RBC Run for the Kids features appearances by The SpongeBob BMX Team, Nickelodeon favourites Dora the Explorer, SpongeBob, Blues Clues and The Wonder Pets, and a special performance by Brooklyn Roebuck, winner of The Next Star Canada. RBC Olympians Jennifer Botterill, Heather Hamilton, Kevin Rempel and Greg Westlake were also in attendance.
For more information, please contact:
Tanya Dodaro, ON Q Communications Inc, 416 725-8020
Rima Maamari, ON Q Communications Inc, 416 566-0797
Jackie Braden, Director, Communications, RBC, 416 974-1724, jackie.braden@rbc.com
Nadia Radovini, Communications Advisor, Sunnybrook, 416 480-4040 or event day 416 671-9147, Nadia.radovini@sunnybrook.ca